Do you need ideas for your donation?
Check out the Auction booklet from our last Auction.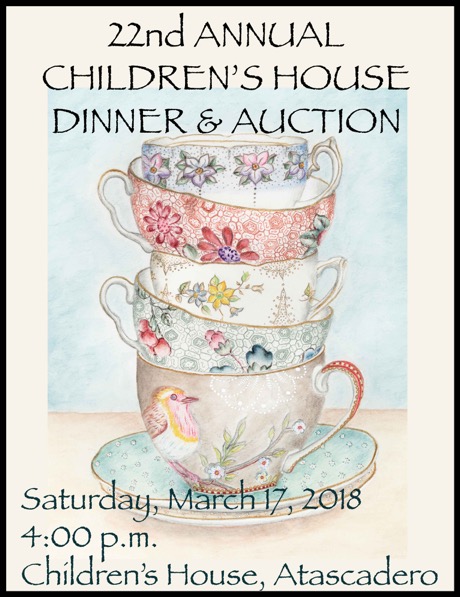 January 19, 2018

Dear Parents,


The plans for our Twenty-Second Annual Children's House Auction are under way! This year's event will be very much like our auctions in the past. For our new families, this is our big fundraiser of the year, and a fun-filled evening for parents. It is a combination Silent and Live Auction, along with wine tasting and an elegant sit-down dinner.

We would like to see every Children's House parent participate in this event. This is a special occasion where we can all get together without our children and have a great time. Although donations and attendance are on a volunteer basis, we hope to have 100% participation, of course!



THE DETAILS

* DATE & TIME: SATURDAY, MARCH 17, 2018, 4:00 p.m., St. Patrick's Day! Wear a wee bit of green and we will treat you to a shot of Irish whiskey, upon your arrival!

* PLACE: RIGHT HERE! We are thrilled to host our 22nd Annual Auction in our new Stephen B. Dudley Community Barn, again this year. Our lovely playground and patios are the setting for the silent auction and our elegant dinner and live auction will be held inside the "barn". This setting, among friends, wine and grand gifts, rivals any place we have been before.

* PRICE: WE ARE OFFERING OUR "EARLY BIRD SPECIAL" AGAIN. YOUR COST IS $80.00 per PERSON, IF PURCHASED ON OR BEFORE FEBRUARY 16, 2018. AFTER THE 16th, IF SPACE IS STILL AVAILABLE, THE COST PER PERSON WILL BE $100.00. Your cost gives you entrance into a magical event, including a fabulous sit-down dinner created by Spencer Johnston and his Danior Kitchen Catering Company. Spencer is not only a highly artistic and well renowned local chef, but he is also a Children's House alumnus! This makes our event this year and the dinner, extra special to us! We couldn't be more proud. Spencer is an innovator in producing top quality culinary experiences that are inspired by his passion for sourcing locally and sustainably grown products. We are all so fortunate that he will be a part of our auction this year.

Your cost also includes an open beer and wine bar. You will receive a wine glass and have the pleasure and honor of tasting wine from some of our prestigious local wineries, most of which are owned and/or operated by our Children's House parents!

There are a limited number of seats available. The venue is small and cozy and we will sell out. Don't miss out on this wonderful evening. It is not only a great way to support your child's school, but an opportunity for a pleasurable night out! Make your reservations by completing the blue Dinner Reservation form.

* THE PROFITS: VARIOUS ITEMS AND/OR PROGRAMS FOR OUR SCHOOL HAVE BEEN PURCHASED AS A DIRECT RESULT OF THE MONEY RAISED FROM THE AUCTION. These include our piano, music programs, the library/art room, computers and the computer lab, iPads, and staff development workshops, to name a few. Money this year, will go towards classroom materials, student scholarships, theater lighting and possibly a new artificial lawn.

* DONATION SUGGESTIONS: THIS, OF COURSE, IS WHAT MAKES OR BREAKS THE SUCCESS OF THE AUCTION. Please start thinking about what you will offer to be auctioned off! The item or items (the more, the merrier) should have a minimum value of $25.00 but could be worth, perhaps as much as $500 or more. Special donations can be anything the audience would have fun bidding on for a good cause (our school!) and then splurging on the purchase. For example, we have had a fabulous dinner for ten, including wine and hors d'oeuvres, an overnight at a B&B with a basket lunch, a weekend at a vacation condo or a helicopter ride!

Perhaps you don't have access to one of these fantasies but...maybe there are grandparents, business associates, or friends who might like to help for a good cause. Many businesses will donate items or services if you ask them. If you are out shopping or dining and find a store or restaurant you think might want to donate, please feel free to ask them and/or give them our "Dear Community Friends" letter. Perhaps you or someone in your family is an artist or crafts person. Services of sewing, cooking, woodworking, gardening, etc., are great. Maybe you have a special talent or hobby you'd like to share with children and/or adults, by teaching a workshop or series of lessons. Handmade items or collectables such as quilts, prints, or special wines are all wonderful as well! Get creative and have fun! Take a look at one of the Auction booklets from last year, in the foyer, for more ideas. With your energy behind the donations, this auction will be another great success.

* DONATION DESCRIPTIONS AND DELIVERY: WE ASK THAT YOU DESCRIBE YOUR DONATIONS IN EITHER AN EMAIL OR ON THE PINK DONATION DESCRIPTION FORM. We'd like to have all final descriptions turned in, on or before, FEBRUARY 9, 2018. The items themselves should be turned in MARCH 2, 2018. We ask that each donation be creatively packaged for an enthusiastic display. These descriptions will be used in our Bid Book and/or on Bid Sheets. When emailing, please use the format on the pink form to describe each donation and email it to us at:
office@childrenshouse.cc. If you do not have access to email, please complete one of the pink forms and return it to the "Auction Box", at the school.

The Auction Committee: Ciera Adams, Amanda Beazley, Bill Denissen, Jennifer Hsu, Stacy Hutton,
Karina Hendricks, Sandy Scholz, Denise Stornetta, Vicki Taylor, Michelle Thacher, Julie White-Chaples, Dana & Korey


See below for pics from previous years.





Auction photos from the past.


2013 Student Made Items



2012 Student Made Items



2011 Student Made Items



2011 Table Settings




2010 Student Made Items



2010 Table Setting with Screen Printed Napkins for 30th Anniversary



2009 Student Made Items




2008 Donated Items (left) Student Made Items (right)